This blog is becoming more and more about human emotions than elephant issues, but I promise to mention elephants in every post.
Clearly, ABCs of Endangered Species is on hold, although I've picked out next few in the alphabet so maybe I'll get around to it one day.
In the last post I talked about loneliness and sort of touched on identity, and I think now I'm going to ramble about identity, careers, and cats for a few paragraphs.
Like a lot of people I've always struggled with identity. Not so much labels, but more trying to figure out where I fit in the grand scheme of things. What is my purpose, how can I help, what am I supposed to do with my life besides take up space. I wonder about all of these things. And I've felt this confusion especially acutely in the past few years since I'm not in school anymore. In school, you're supposed to learn, not really do, and you can put off worrying about your purpose until you leave the nest. I always thought I would figure it out when I graduated.
It turns out you have to really do the work to get to know yourself before you can answer any of these questions. I thought I could just take opportunities as they came to me and that I would eventually figure it out, without having to do any difficult work on myself. Wrong. Job after job, place after place, I still don't feel like I have found where I fit. Everywhere I work, I feel out of place. And it's quite frustrating not even knowing how to take steps to figure out what's off.
I may have inadvertently let my identity sort of depend on what type of job I have. I've always been a strong believer in having multiple facets to one's life – for example, I would crumble and die if I had a job where I worked around the clock, because I'd be committed to just one thing, and my personality has too many facets for me to be able to thrive doing just one thing forever. I've always been happier when I'm involved in lots of different things. But heading out into the "real world" with loans looming puts a lot of pressure to find a secure job, and a secure job (especially in law) takes up a lot of time and energy. For me, it's necessary to have a job in an area I'm somewhat passionate about, or my energy plummets and I'm miserable. Like now.
It's hard for me to compartmentalize and say, I'm doing this job not because I like it but because
-I need "experience"
-I guess I need health insurance (?)
-it's technically in the "public interest"
– gotta make loan payments
-it's a job ? who cares what it is, i should be thankful I have one.
I can't do that. Despite my advocacy for not letting a job take over one's life, I have let my identity depend on the work I'm doing. I get too worked up about the job I'm doing because I don't think it's "right" for me, it's tedious and safe and boring and secure, and that's just not for me. I'm not doing any good for anyone except myself. That's what I think, constantly.
I'm terrified that I'll never find where I fit, and that I'll spend my whole life wishing I were somewhere else. So many people seem to have found their niche, or at least something they're good at, and I'm hanging out doing the bare minimum at a job I hate. COMPLAIN COMPLAIN WHINE. Wine? Yes please.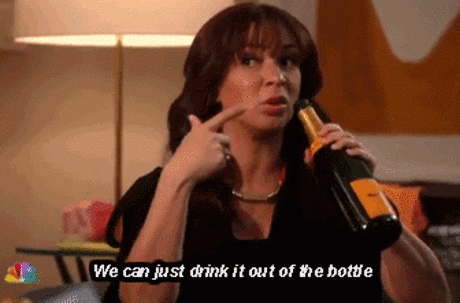 Which brings me to Mari Andrew and cats. I love Mari Andrew. I already loved her, then I listened to her talk at this synagogue in DC and completely lost it. She talked about how the parts of us we consider weak are actually strengths once we figure out how to harness them, etc. She also used to feel out of place but turned it into a strength because she's really good at observing people – and I am the same way. She looks for meaning in life and definitely in her work as well, although she probably wasn't as dramatically unhappy as I can act sometimes. Anyway, she traveled around doing odd jobs for a long time, and she talked about her job at a bakery and how she would do things to make the job meaningful.
to make the job meaningful.
Well, maybe not meaningful, but enjoyable.
That resonated with me even though it's not a new concept to me. Of course I have tried to think of ways to make my own job more meaningful, which only work on days where I'm not feeling dramatic and angry, which is no days. I've made friends at work, which motivates me to go to work but doesn't help me concentrate on the actual work. I don't think the work would ever be meaningful to me. I usually end up finding the most joy in polishing off bags of popcorn and/or swedish fish.
What I failed to do was try to make my work day enjoyable. I've been at this job for almost a year, and since the beginning I've known there was a feral cat advocacy organization located on another floor of our office building. I follow them on twitter, etc. Just last week someone mentioned that the organization has office cats that we're welcome to go hang out with. WHAT. HOW. DID I NOT THINK. TO ASK. THIS. SOONER.
My entire year could have been different. Petting/playing with animals is THE number one therapeutic activity for me. Hands down. And I didn't think to go see if they had animals in the office? What is wrong with me?
Well you best believe I went down there to find the cats. And the cats were sick. And the cats were moving out of the office in two days.
…

Worst timing, but also best timing. If the cats are leaving, I'm leaving. I'm interviewing for other jobs and will hopefully find something a little more my style soon, but this is a really good lesson I will take with me to my next job. On the stupid days at work, take advantage of your environment. If you're like me, it's easy to live in your own head and forget that your immediate surroundings aren't a jail cell. For an entire YEAR, I could have been playing with cats at work. I could have looked forward to going into the office everyday, I could have spoiled the shit out of these cats with treats, toys, and cat clothes. Coulda woulda shoulda. I miss those cats and I never met them.
I was so wrapped up in feeling like my personal growth was on hold because I'm at a job I don't like. How dramatic is that? And why do I feel entitled to the "perfect job" at 28? And who says I was growing in the first place? Crying because my cat turned five and I remembered she would die one day isn't really a sign of an emotionally mature person who is experiencing significant personal growth. (for real though why can't our pets live forever I can't handle it)
But I could have at least enjoyed going to work even though I don't want to be there forever. Trying to keep the job at arm's length zaps my energy and doesn't leave anything left to put toward my own writing or any other hobbies besides drinking and sleeping late – both art forms which I have mastered. But I also love animals and writing, and the hardest part of trying to navigate the professional career field is making time for the things you love if you can't incorporate them into your work. I have not mastered this.
So anyway, elephants. I guess I imagined a job where my love for elephants would be intertwined with my work. But then I remembered I paid for this website's URL, and I should keep using it and see what happens. And I don't have to painstakingly research every blog post and I likely won't ever do that again because it's hard enough to do legal research when you actually get paid to – why would anyone do it for fun, and why did I think I could be that person. So I'll keep writing about elephants and people and cats in my free time because I love all of them except people, and I'll quit whining about not being able to find the perfect job that incorporates all of my hobbies which would be impossible because all of my 18 different personalities have different hobbies. So.
Conclusion: Elephants are awesome. They are satisfied living their lives just doing elephant things and I wish humans would let them do that. I'm living my life doing people things, hoping I can find a way to help make the world better. Hoping I can meet an elephant one day. Hoping I can start to make sense of things. I would encourage anyone that reads this to find out if there are office animals in your building and to visit them when you feel bored or unfulfilled at work. I give you my blessing (see below).